How To Retain Friendships Over Years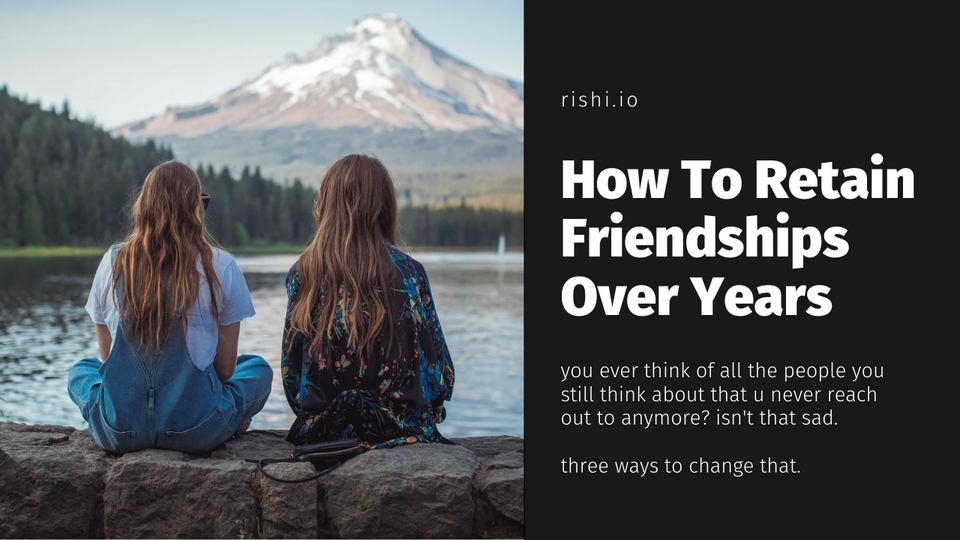 There's this tweet from the song artist Lauv:
When I read this, I'm flooded with memories of people important to me. A travel buddy, who I remember every time I have pasta. A high school friend, who got me into coding and startups and my career. A college roommate, who helped me through a breakup and saw me cry.
I don't talk to any of these people anymore.
It breaks my heart, Lauv. These people weren't strangers. These were people who at one point in my life, I considered my closest companions.
Friendships, like much else in life, are ephemeral, and I accept that. But I can't let that be an excuse—I should still strive to maintain my friendships. Because if research says it takes 200 hours to establish a close friendship, I don't want to be starting my friendships from scratch every year.
Epicurus once said "of all the means to insure happiness... by far the most important is the acquisition of friends." But he was wrong.
Of all the means to insure happiness, by far the most important is the retention of friends. And in this article, I'll teach you to how to retain friendships through systems, not willpower.
Read on and learn how to:
Avoid the two common traps that make friendships wilt
Use the three proven systems that make friendships thrive
First, the two common traps.
Trap #1: A kind of friendship to avoid
Everyone has friends in their life friends they mean to hang out with but never find the time or circumstance: catch-up friends.
A visual explanation:
Who are the catch-up friends in your life?
I have plenty, and I love them: we have amazing times too. But I don't want all my friends to be friends I see once in a blue moon.

Trap #2: A strategy that's a crutch
To keep in touch with friends, I first planned to call and text more often. But as soon as life got busy again, I dropped the habit.
As Lauv puts in his song Modern Loneliness:
Love my friends to death
But I never call and I never text, yeah
It's a modern paradox. I find texting my friends valuable, especially when I can send something easy, like a meme or a tweet. For some people with the time and habit, calling and texting might be all you need. But if you're curious what works better, read on…
System #1: The Bachelor Strategy
Let's say on Mondays I host friends to come over and watch a social TV show like The Bachelor. This is an ideal event.
First, the event recurs every week, so I'll see my friends a lot more because they have that event in their calendars.
Second, the event has a flexible invite list. As in, the event can happen with 2, 5 or 10 people. This way, friends have an out if they can't make it.
This is an example of the first key to retaining your friends: a recurring event with a flexible invite list.
These events give new friends a convenient track to become your friend. These events also give old friends a convenient track to stay your friend, while providing them an out if they ever get busy.

More examples:
Nick has an apartment in New York. It's small and five stories up, but it's in a prime location that makes it easy for anyone in the city to access. Every week he has an extremely casual dinner party. He orders some Thai takeout, invites a bunch of people over, and they sit around his apartment talking and eating Thai food.

- Tynan
When I lived in NYC, a friend would always go to a certain Equinox that had a sauna, cold plunge, hot tub, and steam room on Friday evenings. It was an easy way for us to regularly meet up since we lived in different parts of the city, and it was a great social event to invite other friends to.

- Nat Eliason
I've been hosting this dinner party with my husband for nearly three years now, and what started as a "writers group" (guess how much writing we did?) has morphed into something I think many people, millennials especially, find as elusive as the rest of the American Dream: warm, reliable community.

- Molly Conway
The above examples sound small-group, but you can run large-group variants. A friend of mine in San Mateo hosts potlucks on the second Sunday of every month. He and his housemates put out a Facebook invite to a bunch of people. They have a large house, so twenty or more people can come.
Recurring events with inflexible invite lists can be useful too, like book clubs. But I've found that when you require a specific set of people to always be there, those people don't have an out and the event will eventually fall through.
Nat Eliason has more examples of recurring events in his article, including rock climbing, board games, and low-effort outdoor activities. Also consider Thursday pregames, Friday drinks, Sunday brunch and Taco Tuesday.
Yearly recurring events can also be effective. One of my friends always hosts a 4th of July BBQ. Another hosts a Friendsgiving. I notice there's an open spot for a Friendsmas. And I don't know anyone's who's swung it, but an annual ski trip could be a hit.
These events also allow your friends to become friends with one another, which brings me to my next point.
System #2: The Delegation Strategy
If you care about staying friends with someone specific for a long time:
(a) become a part of their friend group
(b) have them join your friend group
(c) create a friend group with them in it

Because the second key to retaining your friendships is recognizing that friend groups are 10x stickier than 1:1 friendships.
If you're like me, you can't be trusted to maintain a friendship 1:1 by calling and texting all the time. You get busy. In a friend group situation, your amazing friends keep each other engaged. This way, you're relying on a system instead of willpower.
A year ago, I started a writing group with five friends from four different eras in my life. Since then we've had ten Zoom calls and two trips. We aren't BFFs: some of us have never met in person and the chat is only active about once a week. But we'd agree that we have a sense of kinship that's meaningful.
I use a light definition of friend group: to me, it's a group chat of people that have shared experiences. You don't have to be besties.
Why the insistence on the group chat? You need the group chat to engage everyone and invite people to events. You also need a boundary drawn (exclusivity is necessary) so it can feel like a "group".
If I wanted to create another friend group, I would kickstart that by getting people to go on a music festival or trip together. It's an excuse to get shared experience and a group chat going.
Earlier this year, I introduced two friends to one another, two friends who now talk most days a week. They're retaining each other for me 💪
"One of your top social priorities should be helping others meet their future best friends. Among your first thoughts upon getting to know someone should be: who do I know who would love this person? Who of the people I know would they love?"

- Tynan
System #3: The Epicurean Strategy
The ancient Greek happiness philosopher Epicurus did something that many people often talk about doing, but never get around to. He purchased a plot of land with a large house and invited all of his friends to come live with him. It would become known as "the Garden".
If you want to see your friends regularly, instead of now and then, living in a house with them or living next door to them is the best move. Create a Bestie Row.
Thus, the last key to retaining friendships is to get some housemates—find a coliving situation.
Most housemate situations I know are 4 people or less, but it can be extra festive to have 6, 7, 8 people. Check out Supernuclear, this blog with case studies and how-to articles on coliving. One day I'll put together a community like this 🤔
In a similar vein, consider splitting some kind of vacation property with friends. Tynan and his friends bought an island together, as well as home bases in Hawaii, Budapest and Tokyo. Tynan spent less than <$100k on this, and found it an excellent way to foster community with some friends, while getting home bases around the world.
An aside
I came up with this article when it occurred to me you could apply the stages of a customer lifecycle—AARRR—to friendships. This article is on the Retention stage, and the next stage is the Revenue stage.
Now I haven't figured how to monetize my friendships just yet (followup article?) but I am bullish on a premium subscription tier 😂
In Summary
Host recurring events with flexible invite lists (dinner parties!)
Create/join a friend group
Get some housemates
Watch how you spend your social time. Remember, the goal isn't to have a million now-and-then friends, but an amazing group of close friends. Pick one of these retention mechanisms and take action.
If you enjoyed this article, also check out: